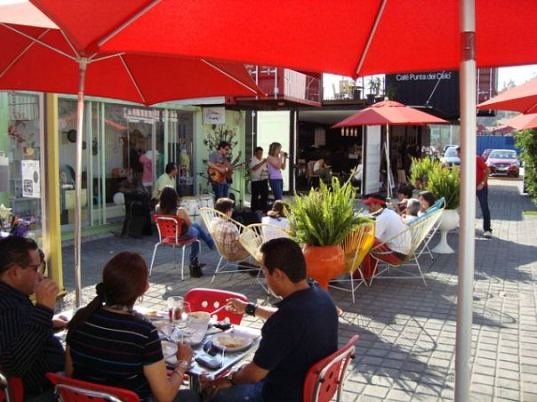 Container City- Cholula Mexico
This hip, colorfully painted shipping container city recently sprung up just outside of Mexico city. Created by a small community of businesses, the project features restaurants, gallery space, bars, funky stores and even living spaces constructed completely out of recycled shipping containers.

Container City is located about two hours outside of Mexico City in Cholula, and is comprised of about 50 standard shipping containers. The developers took 4500 sq meters (48,500sq.ft) of space and plopped down the containers, stacking them to create courtyards, alleys and streets. The containers were then painted bright colors and outfitted with lighting, kitchens, dining areas and more. There is even an open public area with ping pong tables where people can go and hang out.
The city consists of restaurants, juice bars, normal bars, funky little shops, bookstores, art galleries as well as a few residential apartments. There's plenty of outdoor space to sit around and hang out and there are events and bands scheduled all the time. Container City is open Monday thru Saturday from 10am-8pm and Sundays from 11am-6pm